After Nick Xenophon broke his corporate tax election promise –
blowing a $24 billion hole in our precious school and hospital funding – GetUp members sprang into action.
Here's what our people-powered movement achieved:
Phase one was a hard-hitting media campaign online, on the phones and on the streets of Adelaide, to make sure SA voters were aware of Nick Xenophon's dud deal. Check out our giant 'Nick, don't be a corporate doormat' billboard on Rundle Street!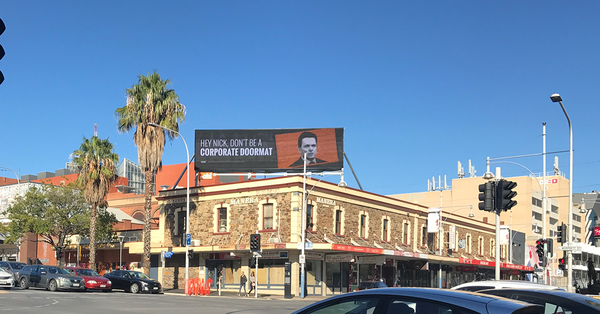 We backed in our media campaign by taking the message to Nick Xenophon's office in Adelaide. SA GetUp members (joined by some special four-legged guests) gave Xenophon a taste of his own medicine – imitating his flashy, media-grabbing style!
Media coverage of our campaign made headlines across the country! We were even covered in a snarky beat-up piece in the Murdoch Press, and when they're on the attack, we know we're kicking goals.
Our swift, strategic response to Xenophon's dodgy corporate tax deal is a reminder to politicians everywhere:
no matter who you are, no matter what your political leanings, GetUp members will hold you to account.